Friday Community Calendar
Here's your community calendar for Friday, June 8th, underwritten by Sopris Liquor and Wine, at the corner of 133 and Main in Carbondale. For a list of today's events like The Flaming Lips playing at Belly Up follow the headline...
The Art Base Basalt hosts a Second Friday Art Walk and opening exhibit reception starting at 5.

Basalt Library hosts a Summer Reading Kick Off Community Picnic at 5:30.

Confetti Design in Glenwood hosts an end of construction party on the corner of 8th and Grand at 5.

Cooper Corner Gallery in Glenwood hosts a 2nd Friday Reception at 5.

The Hotel Colorado offers live music from Rodrigo at 6.

The Carbondale Community Oven at the Third Street Center hosts a Pizza Picnic starting at 6.

RBG shows at 7:30 at the Crystal Theater.

Pitkin Library shows Borg versus McEnroe at 7:30.

Aspen District Theater presents Aspen Fringe Festival at 7:30.

Feeding Giants play at 7:30 at the Marble Distillery in Carbondale.

The Wheeler Opera House hosts Nu-Topia presenting Tour the Mystery at 7:30.

Vaudeville Theater presents Chris Voth performing comedy at 8.

Ben Hunter and Joe Seamons play at 8:30 at Steve's Guitars.

The Temporary presents Tacos, Salsa and Bachata at 8:30.

Salem Acoustic play at 9 at Stubbies Sports Bar.

Aspens Darkside Ghost Walk Tour starts in front of the Wheeler at 9.

Echo Monday play at Slow Groovin BBQ Snowmass at 9.

Painters Stage play at 9 at Rivers.

And Belly Up presents the Flaming Lips at 9:30.
Looking ahead

The RFTA Summer Bus Schedule Starts tomorrow.

The Central Rocky Mountain Permaculture Institute offers an Edible Landscape Workshop starting at 8 tomorrow morning.

River Valley Ranch is having a neighborhood wide garage sale starting at 8 as well.

Sustainable Settings offers a Culturing Dairy Workshop at 1 tomorrow.
You can submit your calendar items on our website or by emailing calendar@kdnk.org. Get out there and have some fun!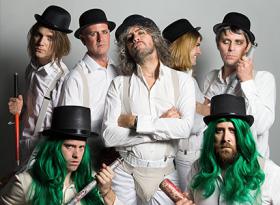 Credit The Flaming Lips